Celebrating 100 Years of Grand Service
1914-2014
"This is the bestest thing the big people have ever done."

–Spoken by one of our youngest patrons upon seeing the children's library entrance for the first time.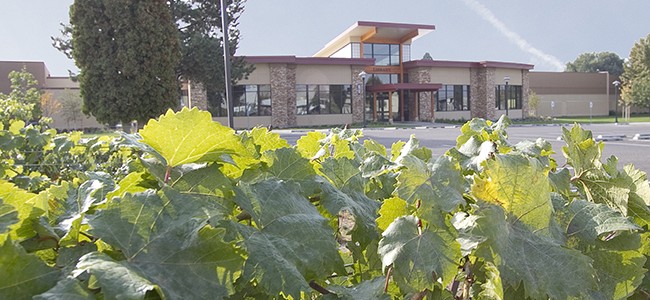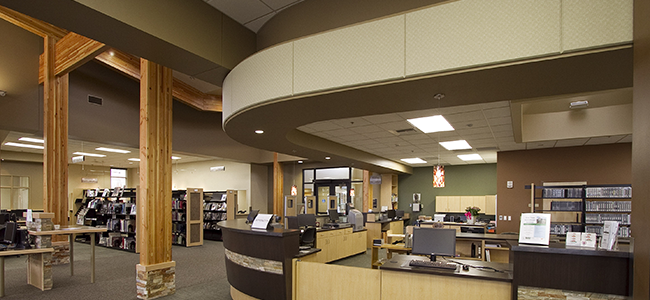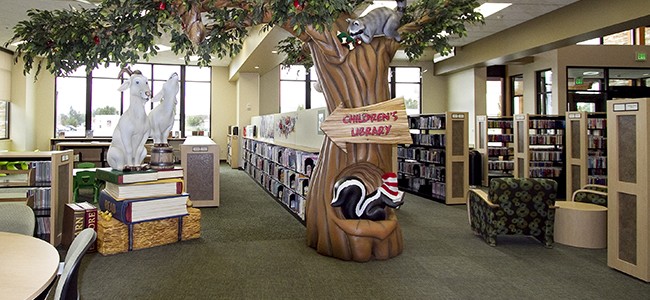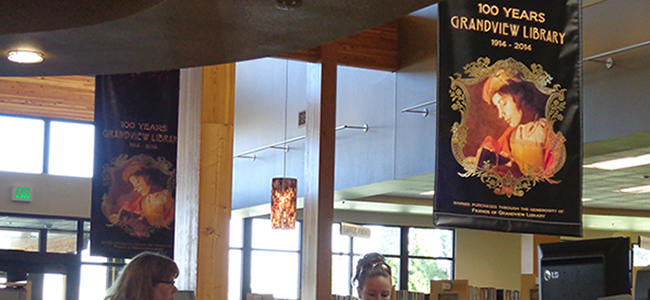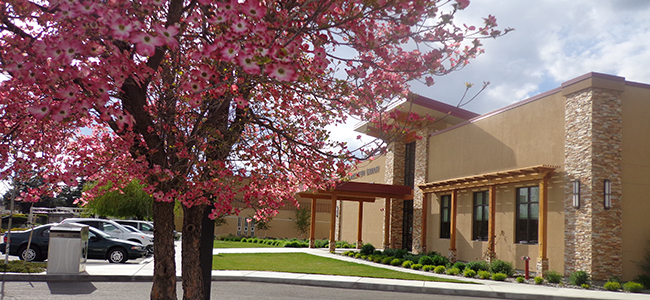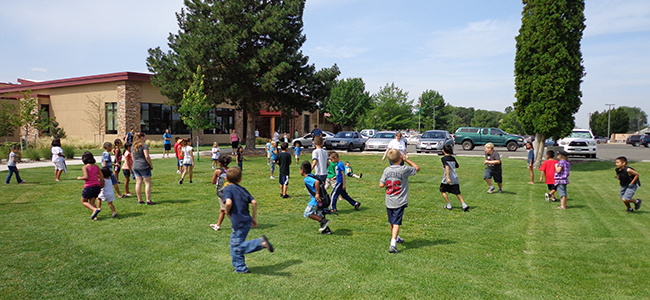 Grandview Library ● 500 W. Main St. ● Grandview, WA ● 98930
(509) 882-7034

Friends of Grandview Library Offer Limited Edition Wines
  Through the Library's partnership with Yakima Valley Community College and its teaching winery,
Yakima Valley Vintners
, the Friends of Grandview Library are making available, for a limited time, custom labeled wines.    Stop by
Yakima Valley Vintners
on the corner of Grandridge and Wine Country Road in Grandview to pick up a few bottles for your next event.   Winery and Tasting Room Hours Friday        3:30-5:30 Saturday   11:30-5:30  
2012 Grandview Library Centennial Riesling
$12.00
This crisp Riesling carries aromas of apples, pears, and undertones of guava. Enjoy this German-style wine while relaxing on your porch with your favorite book.    
2008 Grandview Library Centennial Cabernet Sauvignon
$19.00
This wine, aged in French oak barrels, has bold fruit flavors guaranteeing its perfect accompaniment to a steak or chocolate or even a good book.   
          SILVER MEDAL WINNER: 2012 Washington State Wine Competition
30% of the proceeds from the sale of this wine will go directly to Friends of Grandview Library to be used for library programs.  

Celebrating 100 Years of Grand Service, 1914-2014
On April 12, 1914 the Library Committee of the Grandview Women's Improvement Club voted to spend $50.00 to start a library as their first club project. In May of that year, they received their first donation of books, ordered 1,000 book pockets, and received a cash donation of $1.00.
From an upstairs room in the Swain Building to a short period at City Hall, several decades in our own Bleyhl Community Library building and finally a beautiful new building through our partnership with Yakima Valley Community College, a strong library presence has been felt in Grandview.
In 2014, Grandview Library celebrates 100 years of offering good reading, good company, and a good place to spend an afternoon.

Cowboy Buck and Elizabeth visit Grandview Library
Thanks to everybody who made Cowboy Buck and Elizabeth's visit a success. Everyone, young and old, had a wonderful time. Check out a You Tube video from their visit.
This program was made possible through the generosity of Friends of Grandview Library.

"Celebrating 100 Years of Science"
Join us June 14 at the Grandview Country Park (Fairgrounds) Event Center as we kick off our Summer Reading Program, "Celebrating 100 Years of Science" with the "Super Cool Science Show" presented by Seattle's Pacific Science Center.



Beginning January 1, 2014, the library will be offering downloadable music to patrons with valid library cards. The subscription to Freegal ("Free and Legal") has been provided in part by a donation from Friends of Grandview Library.
Each valid library card has a weekly limit of 3 downloads. You may download the music to your computer by visiting Freegal or to your mobile device by using the Freegal app. The free "Freegal Music" app is available from the iTunes Store or Google Play.

Microsoft IT Academy
Grandview Library, in collaboration with Microsoft Corporation, the Washington State Library, Office of Secretary State and the Washington State Legislature, is proud to provide Washington state residents' with free access to the Microsoft IT Academy. Click here or the Microsoft IT Academy button above to go to the program page.


Starting this fall, Washington residents will have a new way to find, compare and enroll in health insurance. It's called Washington Healthplanfinder, and it gives individuals, families, and small business owners the confidence to choose the plan that best fits their needs and their budget. Washington Healthplanfinder offers:
Apples-to-apples comparisons of health insurance plans
Financial help to pay for copays and premiums
Expert customer support online, by phone, or in-person through a local organization, insurance broker or agent
http://www.wahealthplanfinder.org or for further information http://www.wla.org/sail-resources


The Grandview Library Collection documents the founding and development of the city of Grandview, located in Washington State's fertile Yakima Valley. Local tradition tells us that on a bright Indian summer morning in 1905, two men on horseback, Elza Dean and F.L. Pitman, pulled their mounts to a halt halfway between then new towns of Sunnyside and Prosser. They saw Snipes Mountain rising in the foreground, and the snow-capped peaks of Mt. Adams and Mt. Rainier were outlined against the sky. "It's a grand view!"
Read more about our community in the Grandview Library Collection at Washington Rural Heritage a joint project of our library and the Washington State Library, Office of the Secretary of State.

Library Hours

Monday and Tuesday

1:00 pm – 7:00 pm

Wednesday and Thursday

10:00 am – 5:30 pm

Friday and Saturday

10:00 am – 3:30 pm