GRANDVIEW COUNTRY PARK EVENTS CENTER
812 WALLACE WAY
HOME OF THE GRANDVIEW COMMUNITY CENTER AND
THE YAKIMA VALLEY FAIR & RODEO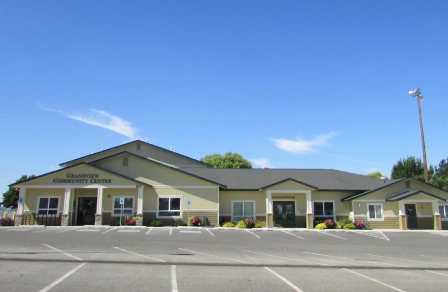 ZUMBA CLASS SCHEDULE
(Cost $2/$3 non-City resident per hour class @ the Grandview Community Center)
 Monday, Wednesday, Thursday @ 7:00 p.m. and Saturdays @ 8 a.m.
Links and Information About:
Grandview Youth Resource Guide
Senior Citizen Assisted Living Guide
2015 Grandview Parks Plan_8.27.14_Final Draft
Community Center Rental Packet
Disc Golf Information
Dykstra Park is the home of a 9-hole regulation disc golf course.  This park is located on South Euclid Street and also includes a 1.25 mile walking path, Rotary picnic shelter and playground equipment.  Discs are available for check-out by calling the Parks & Recreation Department at 882-9219.
Adopt a Park Program
Because our department relies heavily on the many wonderful volunteers in this community, we are always seeking assistance to help beautify our community parks.  Our city is home to over 70 acres of park land. Please call us if your organization is interested in adopting a park.
Non-discrimination in Athletics Policy
Staff Contact Information:
Senior Programming 509-882-9230
Ray E. Powell Museum 509-882-9219 Call for an appointment.
Public Swimming Pool 509-882-3162 (June-August)